A huge number of really strange cameras have been created in the Soviet Union, and one of them is Sputnik. Sputnik is a stereo camera manufactured by LOMO from 1955 to 1973.
In fact, Sputnik was a TLR camera with two shooting lenses. More precisely, it was a redesigned Lubitel TLR. This camera took two photos at a time. If you look at these photos through a stereoscope, you can see the effect of a three-dimensional image.
Specifications
Type: stereoscopic triple-lens reflex camera
Manufacturer: LOMO
Production period: from 1944 to 1973
Format: 6x6cm on 120 film
Lens mount: fixed lenses
Lenses: two Triplet T-22 4.5/75 lenses
Focusing: round ground glass in the center of the viewfinder
Shutter: leaf shutter with shutter speeds from 1/10 to 1/250 sec.
Viewfinder: mirror parallax viewfinder from Lubitel-2
Flash synchronisation: sync socket "X", at any shutter speed
Selftimer: mechanical
Weight: 840 grams
The camera is designed for amateur and professional stereoscopic photography on black-and-white and color 120 film. Like the original Lubitel cameras, this camera has a frame size of 6x6cm. And just like the original TLR, the Sputnik camera was made of fairly high-quality plastic.
Sputnik is equipped with two fixed Triplet T-22 4.5/75 lenses. Focusing was carried out using the lens, which is located between these two shooting lenses and has an aperture of 2.8.
Just like in Lubitel, Sputnik has a waist-level viewfinder. Focusing is done using a small round ground glass in the center of the viewfinder.
When focusing, you need to understand that the looking lens and taking lens is not the same thing, which means there is a slight parallax.
The Sputnik camera first had shutter speeds of 1/10, 1/25, 1/50, 1/100, then 1/15, 1/30, 1/60, 1/125, and the latest models also had a B shutter speed. For a stereo camera, this is a pretty good set of shutter speeds.
The device is equipped with a self-timer, which means that you can take three-dimensional selfies.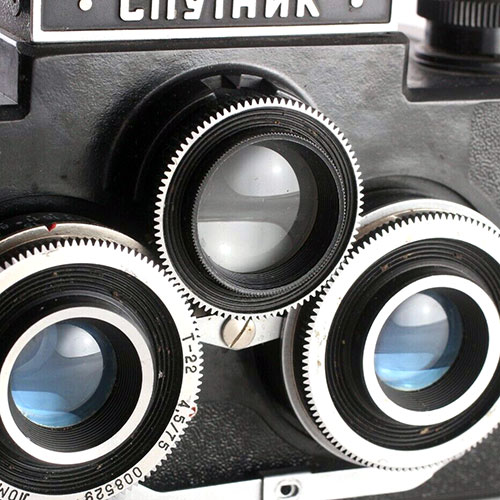 You can view photos only through a special device, which means that in addition to Sputnik itself, you will need to purchase a stereoscope.
From the side, the camera looks very strange, so if you want to stand out strongly among other photographers on the street, this camera is made specifically for you. Maybe people will not even understand that this is a camera.