Moskva-2 is a Soviet folding medium format camera with a 6×9 frame format that was produced at the KMZ plant from 1947 to 1956.
Moskva-2 differs from Moskva-1 in the presence of a rangefinder. This simple device in the camera greatly simplifies all the work and makes the Moskva-2 a camera not only for the collection, but also for real photography.
Moskva-2 Specifications
Type: medium format rangefinder folding camera
Manufacturer: KMZ plant
Production period: 1947-1956
Format: 6x9cm on 120 film
Lens mount: fixed lens
Lens: Industar-23 f4.5/110
Shutter: leaf shutter with speeds from 1 to 1/250 sec.
Viewfinder: optical parallax viewfinder not combined with a rangefinder
Lighmeter: none
Flash synchronisation: none
Selftimer: none
Weight: 854 grams
The Moskva-2 camera was produced for some time in parallel with the first model, but in 1949 the production of the Moskva-1 camera was completed due to the fact that this camera was not in great demand in comparison with the Moskva-2 camera.
Both cameras are very similar to each other in many ways. Moskva-1 was copied from Ikonta C 521/2 and Moskva-2 from Super Ikonta C 531/2. As you probably know, the Super prefix on Ikonta cameras indicated the presence of a rangefinder.
In the 40s, there were practically no full-fledged medium format cameras made in the Soviet Union, especially with a frame size of 6×9. In a market with a complete lack of such cameras, Moskva-2 was a very popular device, especially since the camera was very advanced even by German standards, especially by Soviet ones.
Between 1947 and 1956, 197,640 copies of Moskva-2 were created, and nowadays it is quite easy to find this camera in good condition.
The Moskva-2 camera was equipped with an Industar-23 f4.5/110 lens, which was copied from Tessar f4.5/110. As we said in the article about Moskva-1, the Industar-23 lens is a very good Tessar clone and produces a very beautiful picture with good sharpness and nice bokeh.
The lens has 10 aperture blades, which produces a very round aperture opening at any aperture. The minimum focusing distance is 1.5m. This may seem like too much distance, but keep in mind that this is a rangefinder camera, and at a closer distance, parallax will not allow for proper framing.
Moskva-2 was equipped with a Moment-1 shutter with shutter speeds from 1 to 1/250 sec. These are very good characteristics for a 6×9 folding camera of the 40s-50s.
Due to the focal length of 110mm, you can only shoot handheld at shutter speeds of 1/125 and 1/250 sec, and it will be convenient to use all other shutter speeds only with a tripod. The fact that the camera was primarily made to work with a tripod is also evidenced by the fact that Moskva-2 has two tripod sockets. The first is for vertical shooting and the second is for horizontal.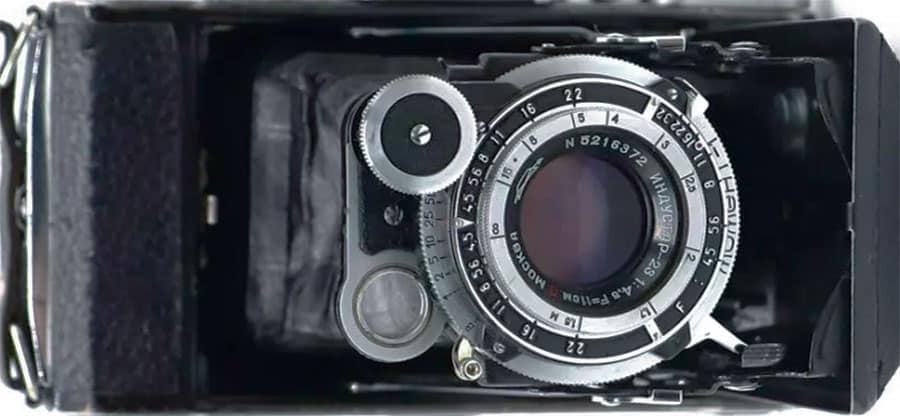 The Moskva-2 camera is very well assembled. When folded, the camera looks like a small brick of complex shape and can fit in a bag or jacket pocket. The camera is made of aluminum alloy and covered with a very nice leatherette.
The Moskva-2 camera does not have a frame counter, and frame control is carried out through a red window on the back of the camera.
This Soviet film camera has a shutter lock mechanism that protects against double exposure. Once you have pressed the shutter button, it is locked until you turn the film advance knob to a new frame and unlock the shutter button.
But you can double exposure if you want. This is done using a duplicate shutter button located in front of the camera directly below the lens.
Film advance is not combined with shutter cocking. That is, you first advance the film using the knob in the upper part of the body, then cock the shutter using the lever on the lens barrel.
Conclusion
The Moskva-2 camera is much better than the Moskva-1, and you should pay your attention to this camera if you want a 6×9 folding film camera. This camera is very well built, has a very good lens and a decent set of shutter speeds.
In addition, it is outwardly a very beautiful camera and carries a certain flair of cameras from the beginning of the 20th century. Using Moskva-2, you will not only get cool pictures, but also enjoy working with the camera.
MOSKVA-2 PHOTOS